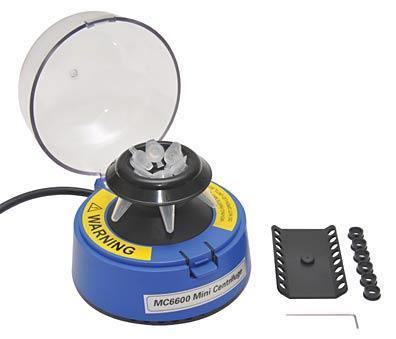 The MC-6600 Mini-Centrifuge is ideal for a quick, easy, and economical way to spin down micro samples, perform microfiltration work and cell separations. The easy-open lid permits convenient single-handed operation. The clear lid and electronic safety cut-off allow the user to safely observe samples at all times.
Ideal for quick spin downs
Quiet and compact design
Complete with standard microtube and strip tube rotors
The mini-centrifuge quickly accelerates to maximum speed (6,600 rpm/2,200 rcf) and stops within seconds. The advanced motor mounting systems provides quiet, vibration-free operation.
The MC-6600 centrifuge includes a traditional angle rotor with capacity for six standard microtubes (1.5ml to 2.0ml) as well as a strip tube rotor for two PCR tube strips or sixteen individual 0.2ml tubes. Aditional adapters are also included for 0.5ml tubes. The rotors can be easily interchanged by the user within a matter of seconds.
RPM
6,600 rpm
RCF
2,200 x g
Max Capacity
- Microtube Rotor
- PCR Strip Rotor

6 x 1.5/2.0ml
2 x 8-Strips or 16 x 0.2ml tubes
Dimensions
5 x 5.4 x 3.9" (12.6 x 13.8 x 10cm)
Operating Temp. Range
+4 to 65°C
Electrical
90V to 230VAC, 50/60 Hz, 0.1 A